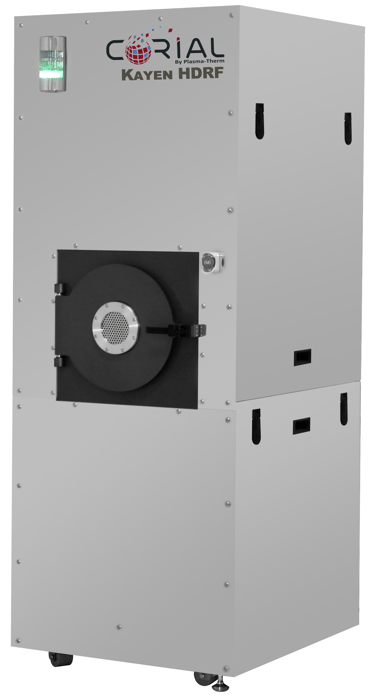 Kayen HDRF

®
Kayen HDRF is a unique plasma-based system for photoresist removal and wafer surface treatment. It's the most efficient and cost-effective system available for microelectronics manufacturing today.
Unlike conventional photoresist strip systems, we utilize High-Density Radical Flux (HDRF) technology which produces high concentrations of reactive radicals, without charged particles or unwanted photons. This chemical (non-physical), non-damaging plasma is ideal for conventional and low-temperature applications.
Kayen HDRF™ is designed for batch processing and is easily reconfigured for single wafers.
Primary Applications
Low-temperature (50˚C to 150˚C) photoresist removal
High-rate (150˚C to 250˚C) photoresist removal
Surface organic cleaning
Sacrificial polymer release for MEMS devices
Benefits
Non-physical, non-damaging HDRF™ plasma technology capable of low-temperature processing

High strip rates with conventional process parameters

Single-sided or dual-sided processing

Small system footprint

Economical
Key Features
HDRF™ ICP plasma source delivers high-density, damage-free plasma

13.56MHz RF package with automatic impedance-matching network

Heated, barrel-style process chamber

High-conductance vacuum train with VAT™ throttle valve

Up to five gas channels (two included) with digital MFCs

Manual loading and easily configurable for single-substrate and multi-substrate processing
Wafer Specifications
| | |
| --- | --- |
| Wafer Mode | HDRF™ |
| Single-Wafer Mode | 50mm (2") to 200mm (8") |
| Multi-Wafer Mode | 50mm (2") to 200mm (8") |
Control System
Plasma-Therm proprietary Cortex® control system with industrial PC-based architecture
Touchscreen-compatible, SEMI-standard (E-95) graphical user interface
Comprehensive process parameter charting (real-time and post-processing)
Real-time process data display
Factory automation (SECS/GEM) host interface (optional)
Integrated recipe editor with step and tabular views
Per-user access control for menus, screens, commands and recipes
Auto logging of alarms, jobs, calibration, and resource usage
Standard Options
Optical emission spectroscopy (OES) endpoint detection
Water vapor delivery system