Shuttleline 500 – Large capacity batch systems for 24/7 production environment
Very large area process solutions with convenient loading and small footprint
With its 560x560 mm reactor, the Shuttleline 500 supports large batch loading capacity (104 X 2", 25 X 4", 9 X 6", 4 X 8" wafers, or large format substrates) to drive down production costs without compromising process performance.
The Shuttleline 500 is ideal for volume production film processing for the optoelectronics, MEMS, and power semiconductor markets.
Shuttleline 500 – Systems for full production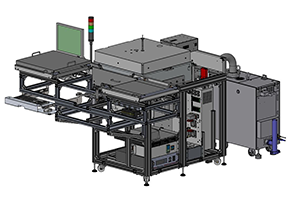 Shuttleline D500
The Shuttleline D500 PECVD system is designed to produce high-quality, uniform films for a wide range of materials, including SiO2, Si3N4, SiOCH, SiOF, SiC and aSi-H films. The default PECVD chamber configuration enables film deposition from 120°C up to 325°C. An optional low-temperature chamber is available for high-quality, low-damage film deposition at temperatures as low as 20°C.