Light up the world with the ICP-RIE equipment offering industry-leading uniformity and repeatability for PSS applications
Corial 360IL ICP-RIE etch system in brief in brief
The Corial 360IL is a large area plasma etch system offering high throughput, without compromising process performance or quality.
The 360IL is based on CORIAL's latest generation ICP (inductively coupled plasma) source. The system features a high-density plasma, 2 MHz ICP RF generator, and state-of-the-art gas injection, allowing fast etch rates and excellent uniformities.
Featuring a vacuum load-lock, the Corial 360IL delivers stable process conditions, short pump cycles and provides the capability to run fluorinated and chlorinated based chemistries on the same tool.
Our PSS processes deliver perfect conical-shaped features, even at the wafer edge, with industry leading uniformity and repeatability.
For MEMS and power devices markets, the Corial 360IL ICP-RIE system is capable of processing a wide range of materials including silicon, oxides, nitrides, and III-V compound semiconductors.
Key benefits
PROCESS FLEXIBILITY
The RF match box operating range (from 100 W to 2000 W) supports a wide range of customer applications
The vacuum load lock enables using a combination of fluorinated and chlorinated chemistries in the same tool
HIGH ETCH RATE CAPABILITY
Wall temperature > 250°C; ICP max power: 2000 W; RF max power: 1000 W; high efficiency of RF coupling to plasma
Fast and uniform etching: GaAs (500 nm/min), Sapphire (75 nm/min), GaN (200 nm/min) …
BEST REPEATABILITY
Load lock for stable and repeatable process conditions
Novel cathode design and efficient helium back side cooling of the shuttle and substrate ensure uniform temperature control (from -50°C) during the etch process
EXCELLENT UNIFORMITY
High density plasma enables highly uniform PSS profiles
Optimized gas showerhead with top gas inlets
OPTIMIZED LONG-LIFE SHUTTLE
Proprietary quartz shuttle (carrier) design for PSS, with edge effect < 1 mm
Quartz carrier lifetime > 5,000 runs
HIGH THROUGHPUT
Large batch capacity: 23 x 2", 7 x 4", 3 x 6"
Throughput > 8 WPH for PSS application using 4″ substrates
Related processes
Typical materials that can be processed with the Corial 360IL ICP-RIE system include:
Silicon
Oxides: SiO2, Si3N4
III-V compounds: GaN, AlGaN, InP
The Corial 360IL can serve a variety of applications in specialty semiconductors markets including optoelectronics, MEMS, power devices and many other markets.
Optoelectronics
Etch rate 75 nm/min
Uniformity ±2%
Throughput > 8 wph (4″)
GaN etch for mesa structuring
Optoelectronics
Etch rate 200 nm/min
Uniformity ± 3%
Throughput > 120 wph (2″)
GaAs etch for mesa structuring
Optoelectronics
Etch rate 500 nm/min
Etch depth 2 µm
Uniformity ± 3%
Upgrades
The Corial 360IL ICP-RIE etch system can be thoroughly customized with a wide range of features.
Additional gas inputs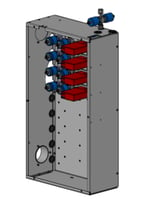 Additional gas inputs (up to 8) for more complex process gas combinations
Wide temperature range cathode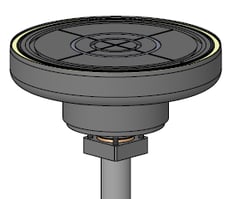 Cathode supports low temperature capability down to -30°C
Variety of pumps
Dry Vacuum pump and TMP pump with varied pumping rate for increased control over the process chamber pressure
Variety of RF power supplies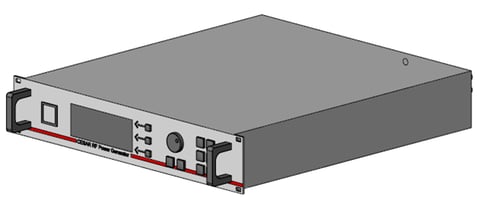 Lower output power supplies with automatic matching network.